The current trend in almost everything, is faster, easier, and safer. This can be seen in the payments- business, where customers are demanding a more seamless checkout experience, both online and in brick and mortar stores. The end user appreciates easiness and reality in their everyday life, and therefore the solutions we are creating are working towards that demand. Here are some of our thoughts after the MasterCard Meetup 2018- event in Helsinki.
Seamless payments are a must for the future consumer
As it comes to easy and fast payments, we have come quite far in the development process, but there is yet a lot we can do. At this moment one of the most seamless payment experiences is powered by Mastercard. Masterpass by Mastercard is a digital wallet where the user can store card and delivery information, which she then can use when shopping online - with Masterpass the user can enjoy an effortless checkout. Seamless payments are truly the future and biometrics might just be the the next element in the process of achieving seamless checkouts for everyone. With biometrics the user can be identified with i.e. a fingerprint, eye- scan or voice-detector – truly a safe and easy way to determine one's identity.
Using biometrics means that we can identify ourselves with something we are, and there might not be a need for any additional codes or tools for identification. Having less tools and devices that we need every day is much appreciated – we've all seen how easy it is to pay with a watch or mobile instead of needing our wallets, cards and codes. We are not only going to a seamless direction but a contactless as well, and Swedish Fidesmo is almost already there - offering a platform that you can connect to any device or object. Fidesmo brings services to devices, connecting several different things, like payments and travel cards to something you wish to use, like your watch or ring. This is truly taking effortlessness to the next level, something customers today really appreciate.
Håkan Sahlén from Fidesmo talking about "The power of collaboration"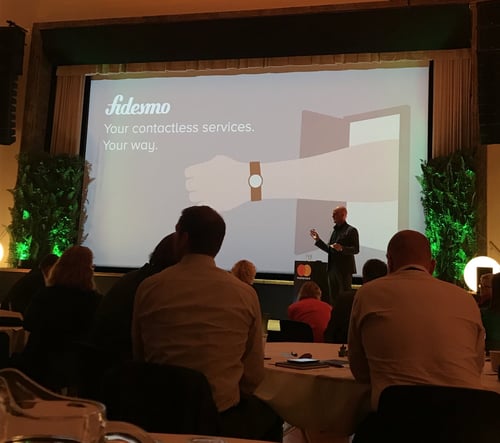 But easiness is not the only thing that is appreciated. As the world changes we are starting to look around us even more, and many of us are more and more aware of the impact we have on everything. By using data, we can show customers what they want to now, whether it is about their purchase history, web store orders or about their carbon footprint. By knowing all and all about what impact our actions have, we are becoming more understanding consumers, whom then can realize what we really need from merchants and service providers. We are all consumers, so by looking at our own behavior, as well as our needs and dreams, we can understand what efforts need to be made and how the future consumers might want to pay and consume.
Mastercard is powering people and took all of us therefore out on a power walk in beautiful Helsinki.

Martina Flygar
The writer is Maksuturva's Marketing and Communications Coordinator.